"If you're running a real business, email is still the most effective way to reach people who have expressed interest in your product or site. For that, it really can't be beaten." – Colin Nederkoorn (Founder, Customer.IO)
Email marketing, when done rightly, has the potential to improve your brand recognition, build credibility, boost profits, and strengthen your customer relationship. Being an extremely powerful tool, email marketing can undoubtedly bring a huge difference to your business. However, an inefficient strategy can make your subscribers find no value in your emails, forcing them to unsubscribe. Thereby one of the most productive tools can become a disaster for your business.
You have been using emails in your business; however, you may not be able to control the dropping ROI and customer retention. The primary reason behind this is the non-strategic marketing approach. Merely incorporating email in your marketing practices will never prove to be profitable for your business unless backed with a full-proof plan. You should be careful while planning your email marketing campaign, starting from the email copy quality to the appropriate sending time and choosing the right mailing list.
8 Proven Steps to create an effective Email Marketing Strategy Plan
A plan in place gives you a better roadmap to follow and milestones to achieve, bringing out the best of your email marketing campaign. Content Marketing Institute observed an interesting fact about the importance of plan in the success of a business-
62% of businesses that record their strategy and follow it strictly are more effective and successful than those who do everything verbally and randomly.
The same is the case with the email marketing campaign. If planned appropriately, email marketing can work wonders in customer retention and business uplift. The following strategy and steps will guide you through creating an effective email marketing campaign and blossom your business.
1.  Set up a Realistic Goal
"A goal properly set is halfway reached." – Zig Ziglar
Imagine a situation where you hired a cab, but you don't know the destination. The journey will end up futile as you gained nothing and only wasted the resources. If you finalize the destination before starting the journey, things can be different. You can now plan out the best route, carry the essentials, research about the place, measure your progress, etc., making your journey fruitful.
The email marketing campaign should also be dealt with in the same way. Before starting with the campaign, you should set up a realistic goal that suits your needs. Setting up a goal gives a direction to your efforts and a target to measure your progress. The purpose of an email marketing campaign can be any of the following –
Increasing brand awareness
Engage new customers
Increase in product sales
Enhance customer relationship
Increase website traffic
2. Build a Targeted Email List
The most valuable asset in an email marketing campaign is the email list. For running an email campaign successfully, it is crucial for you to have a list of the potential subscribers who are more likely to convert into leads. Building an email list is also considered as one of the most challenging parts of the campaign. 80% of visitors leave the website without signing up for future interactions and newsletters. 
There are numerous ways to create an effective list, such as- sign-ups, conducting surveys, contests, etc.
In order to encourage your prospects to sign-up, you need to incorporate some engaging elements in your website or advertisement that keeps them engaged or draws attention. For this, you can offer a lucrative incentive associated with the sign-ups or include exit-intent pop-ups, etc.
3. Segment your Email List
Segmentation is an essential part of your email marketing campaign, giving you a filtered list of users to focus on them accordingly. Segmentation refers to the process of dividing your email list into smaller groups based on certain criteria based on which you can send personalized emails to the users.
There are several inventive ways you can segment your email list to make your campaign more effective, such as
Demography
Purchase history
Areas of interest
Time since subscribed
Activity status
Engagement level (Call to action click, Freebies download, etc.)
Position in the Sales cycle, etc.
Segmentation not only helps you in sending the correct email to the correct email subscriber but also gives you an overall status of the subscriber's engagement level. Based on the segmentation conditions, you can set up appropriate email automation workflows such as:
If a prospect has recently subscribed, it should trigger the welcome email, which makes them feel attended and taken care of.
Source: Neil Patel
If the user is in the consideration stage, and they have abandoned it for some reason, a reminder email can be triggered to bring them back.
Source: Neil Patel
4. Prepare a schedule for your email
The most useful approach to nurture your leads is to deliver the appropriate content to the right person at the right time – also considered as the most challenging thing by 33% B2B marketers.
Hence, merely sending a bulk of emails is not enough for a successful email marketing campaign, sending it at the right time is equally important. A study came up with the most appropriate time and day for sending emails when the subscribers are most likely to open it.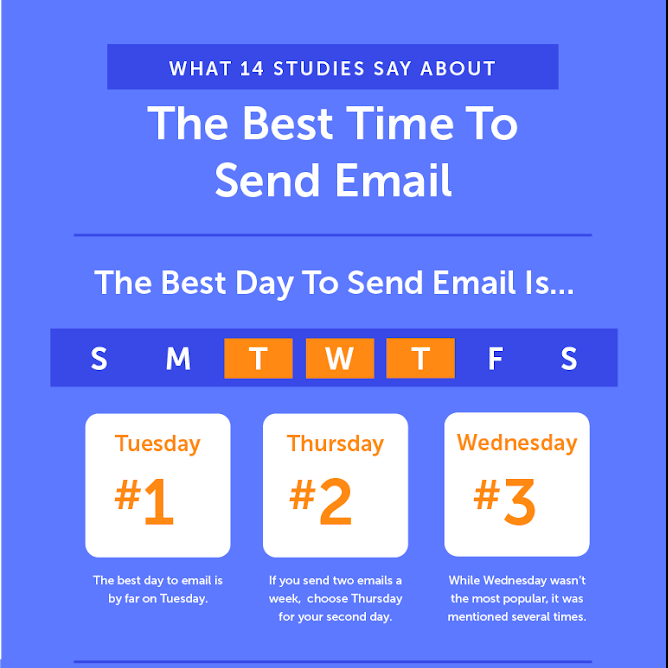 Source: CoSchedule
Even though this schedule works for many companies, it is possible that it may not work for you as it is. You need to adjust the timings according to the behavior of your customer. The important thing is that you should have a schedule to follow while sending emails to make the process more productive.
5. Craft the Content of your Email Wisely
"Content is the King."- Bill Gates.
The content is a powerful tool that is used throughout the customer's journey, from attracting the customers to post-purchase engagements. Before planning the campaign, it is very important to categorize the emails according to the stages of the customer's life cycle, such as:
Welcome emails
Newsletters
Promotional emails
Reminder emails.
Once you choose the type of email, craft an influential subject line for your email, which attracts the customers and compels them to open the email and engage with it.
You can include a lucrative offer in your subject line just like J.Crew Factory and create curiosity among the customers to click on the email to check out the offer.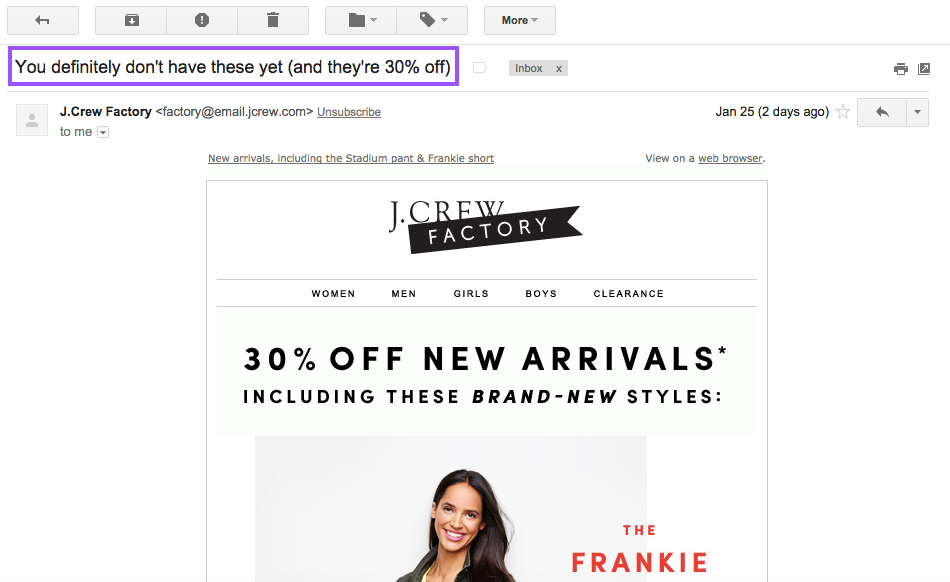 Source: JCrew
6. Use an Attractive Design
A great email designs get the users' attention and allure them to continue reading once they open the email. – Chamaileon
A creative subject line encourages subscribers to open the email. However, this does not ensure further customer engagement. Once the customer opens the emails, they immediately look at the design and layout of the email. If the design leaves a good impression on the customer's mind, then only they dive into the details of the content.
Email designing includes various elements such as placement of the email copy and images, color selection, call to action, and the responsiveness of the emails as per the devices. Efficient management and placement of the elements lead to better engagement by the subscribers and push them towards converting into a powerful lead.
As you know, the human brain can remember and respond faster to the images seen for merely 13 milliseconds. In light of the fact, you can also harness the power of images into your emails that quickly grab the user's attention and leave its mark.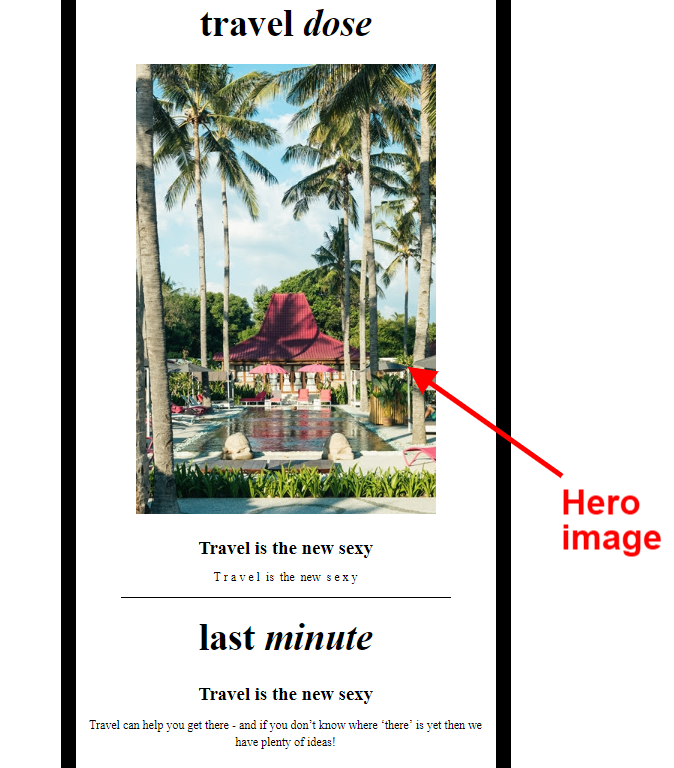 Source: Chamaileon
Last but not least, your email should also have an easy path to unsubscribe to make sure your customer never feels like being trapped with a fake website. You need to maintain dignity and provide freedom to the customer to take things forward in their way. This creates confidence within the customer's mind and also diminishes the chances of your email getting spammed.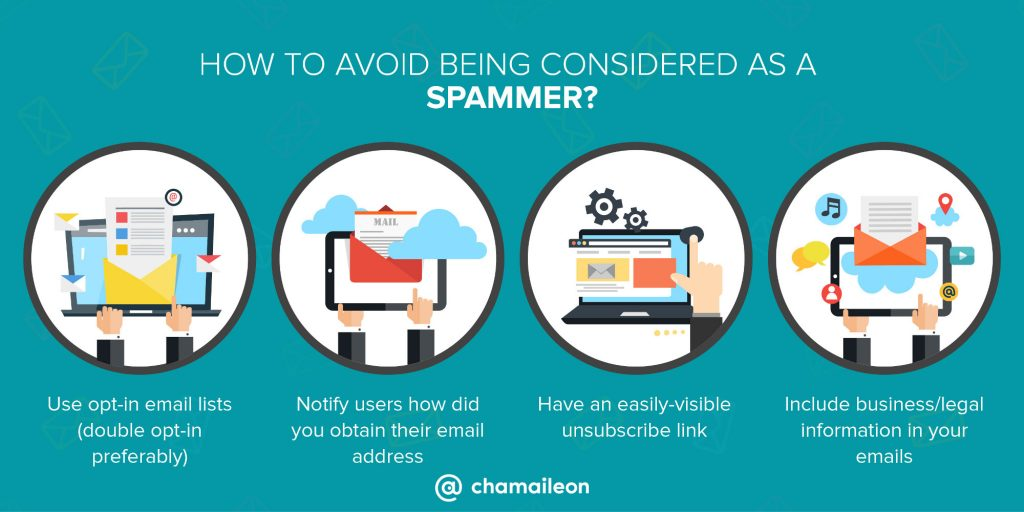 Source: Chamaileon
7. A/B Test Your Emails
With all the preps done for starting the email campaign, including email list building, segmentation, and crafting emails, another essential thing that has immense significance in the campaign is to measure the adequacy of all these preparations. A/B  test proves to be quite helpful in this, providing guidance to your endeavors.
To do this, you need to prepare the test cases for each part of your emails, such as- subject line, CTA, email content, email schedule, images, design, and layout of your email. Then send these variants to different groups of users. The response of these groups gives you an idea about the behavior of each variant, based on which you can make the necessary changes to those parts to increase productivity.
8. Keep track of the Email Performance through Analytics Tools
Once the final testing has been done, and the emails are sent to the customers, tracking the performance of the emails comes into the picture. You need to monitor the activities of the users with respect to the emails, such as-
Email Open Rate
Click-through rate
Unsubscription rate,
Lead conversions through mails
Time spent engaging with the email copy.
Numerous email marketing tools provide the support for measuring the performance of the emails, such as-
Mailchimp
Salesforce Pardot
Hubspot
You can also use Google Analytics for the same, which helps you to track the landing page performance and behavior of the customers according to which you can make changes to your emails.
Conclusion
The performance of your email marketing campaigns may not be flawless as even with a pristine email marketing strategy, and you need to include numerous obscure factors like your customer's unreasonable objectives and their unpredictable response to the emails, which ultimately affects your business.
Despite so many challenges, effective planning of your marketing strategy can tend to be extremely helpful in turning the different challenges and hurdles into opportunities and empowering you to create effective and engaging email campaigns.
So, email marketing is much more than increasing conversion. Email marketing is more about creating a nurtured audience and a long-lasting customer relationship that eventually provides dividends with time. So wait no more, jump-start with your best email marketing campaigns with practical assistance from us for creating flawless email marketing strategies.
Also Read