The marketing madness is like wildfire; once it starts spreading, it knows no boundaries! And being a restaurateur or handling a food business's marketing channels, your prime focus would be to identify the best suitable marketing platform that can drive sales. Email marketing, being the most result oriented arena of all time, come bearing fruits! A Get Response's study derived that the restaurants & food industry collectively get on average 37.40% and 5.02% open and click-through rates respectively on the emails sent. That's huge right? So, if not already, it's high time you start optimizing your restaurant email marketing campaigns for good!
The foremost step here would be getting an ESP or EMS!
Email Service Providers (ESPs) or Email Marketing Softwares (EMSs) work like a charm when it comes to marketing campaigns! So, before getting started with the restaurant email marketing, get yourself this! Read why…
These software and service providers come with inbuilt GDPR and CAN-SPAM guidelines compliance. Which means they'll help your email campaigns to become spam-proof.
There are testing tools at your disposal, and you can test your emails before sending, for better ROI.
ESPs and EMSs are best for automated emails. AI and machine learning available in them will help you segment your email list for different campaign types. Sending welcome emails and birthday greetings can become a child's play with automated restaurant marketing campaigns.
The analytics will come handy when tracking the activity of your sent emails. You can learn about the CTRs, Open-rates, Click-to-open rates and more.
Mobile Integration is MUST!
Google's Mobile-first indexing algorithm was an alarming update for the marketers to drive their campaigns into this direction. Be it your company website, offer landing page or a weekly email newsletter, mobile integration is a MUST to drive conversions.
Getting back at restaurant email marketing, as Redicati Group predicted, worldwide mobile email users hit the number 2.2 billion in 2018! So, regardless of how creative your email template designs are or no matter how catchy content you have written, if your email won't open well in the users' mobile phones, it will be of no use. That is why designing mobile compliant email template is something that should be there in your prime focus.
Moreover, keep in mind the different resolutions of various mobile phones, because the email which will open in an iPhone will be different from that of an Android device. And just so you know, iPhones are the most common mobile device used to open emails for the first time, and
90% of all mobile opens occur on an apple device. Take a brief look at the mobile responsive email template below!


Download This Template
Now that the two major food email marketing trends are revealed, let's move on to something that can help you drive your campaigns in a creative manner. Yes, we're going to disclose a few of the campaigns that you can run for your restaurant email marketing. Brace up…
The Welcoming On-board
Welcome emails get the most attention and this doesn't change for the food and restaurant industry! If you only send one thing, make it a welcome message. Why? Because Get Response's latest email benchmark report shows the average open rate of a welcome email to be over 84%! And the average click-through rate of the same is around 26%. This indicates more than eight out of 10 people will open your welcome email. And one in four will click through to your site.
The Tender Eye Treats
Visuals get the most credit because, before anything, things have to be pleasing to your eyes! Sending tender images of your most billable menu items will draw more consumers to try it. When planning an email marketing strategies for your restaurant, count on sending templates with juicy food images. Your emails should look good enough to eat, and that's the key!
Celebrate Customers' Special Days Like They're Yours
Like old sayings, this one's gold too! Celebrating your customer's birthday and anniversary add a personal touch to the marketing. Sending discounts and offers specially designed for their birthdays may intrigue them to visit your site. Send such emails a week before the actual date to let them plan to celebrate at your place or order food from your outlets with the discounts you offer.
'Important' Day of the Week
This email marketing technique is not just for the restaurateurs. Cadence makes an impact and that's universal for all the industries. Decide a day or two of the week and send your email newsletters or templates on those days. Mix it up with a theme like 'Moody Food Mondays' or 'Savoury Saturdays' to send in something that's around the theme. Be it an offer, or a food fact or an introduction of a new menu item, recurring email sent at the same time each week surely makes an impact!
Bank on LTOs and Flash Offers
The Limited Time Offers (LTOs) and Flash Sale offered by the restaurants majorly increase the footfall. Sending such deals through emails with a catchy subject line and preheader will tempt the readers enough to open the email and take the offer. A study by RetailMeNot found that 9 in 10 restaurant goers have used an online restaurant coupon in the last 3 months. And higher income individuals are the most likely to cash in on the coupons.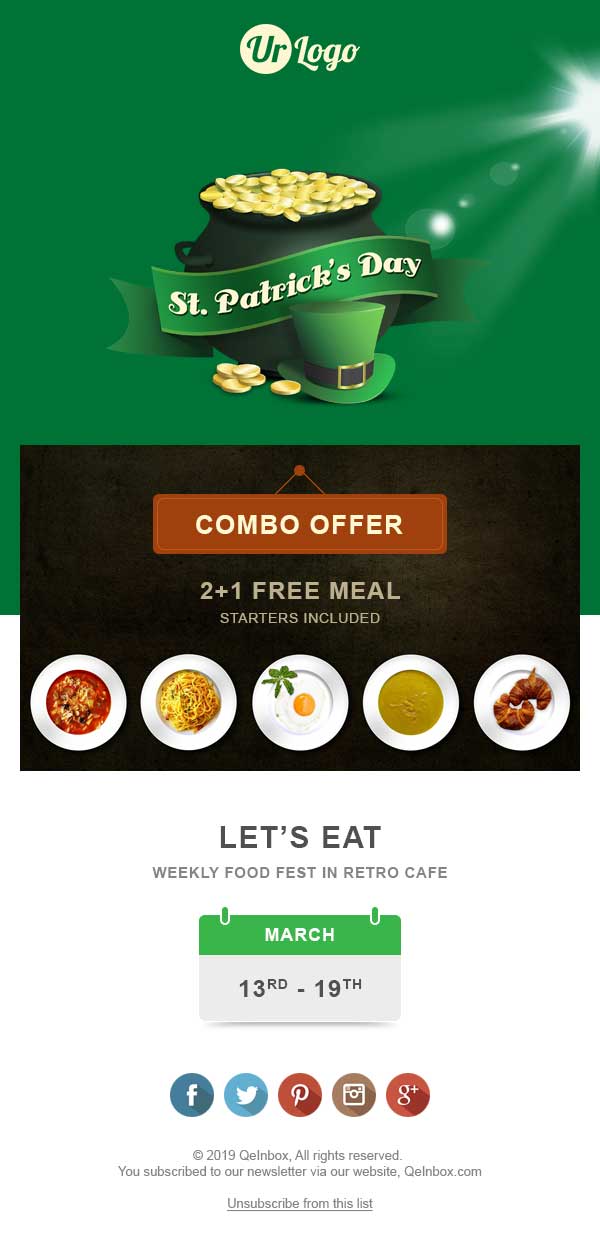 Download This Template
Final Word
Emails showcasing various food offers and tempting pictures are something that people love to receive. Thus, restaurant email marketing is a creative task involving pleasing aesthetics about the food items and restaurant interiors. You can always bank on your menu items for the campaigns and also run privileged food email marketing trends where you could organize 'Ask the Chef' – like sessions. These campaign ideas will spice up things for your readers, so start sending!