Maximize
Landing Page

Efficiency

Increase your campaign ROI with an engaging landing page design supported by responsive & optimized code.
We create engaging landing pages that are made specifically for your email, social or paid advertising campaigns. Every landing page design we make matches specific purpose with a clear call to action for higher lead conversion. We optimized the landing page code for page performance, responsiveness, SEO, and browser compatibility.

On the design front, our experts employ the latest AI generated insights and user experience to design a conversion-centric framework for every landing page e.g. call to actions, form fields, animations/video integration, social tags and more.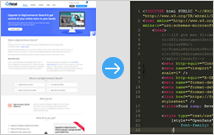 Design to HTML
Provide your layered PSD, AI, PDF or equivalent design file to convert into responsive, pixel perfect and optimized landing page well tested for browsers and devices.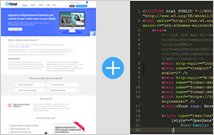 Design + HTML
Share your landing page objective to develop an engaging & very creative design for your purpose. The result is an optimized landing page on your website or third party tool.
Why Work With Us?
Different brands love us for different reasons, here are the ones which we think are the foremost
Unmatched Quality
Centralized Communication
Qualified Coders
Complete Refund Policy
On-Demand Service
Quick Turnaround Time
What Makes Us… Us.
Our biggest strength is our process. We have a bunch of passionate and talented developers who possess strong technical background along with vast experience in diverse business domains. We work very hard to give every email a unique user experience. And this is the reason we don't bank on words too much, our work speaks for itself.
Mobile Responsive
We ensure that you get a responsive email. Period. We will test your emails on multiple screen resolutions to optimize user experience.
100% Human Touch
Our developers will manually write each piece of code using a well-commented markup language.
Tested well for devices
We leave no room for errors by adhering to standard industry norms and procedures. We test your landing page for optimized loading and user experience..
Complete
We ensure that landing page delivered is compliant on platform of your selection like Hubspot, Mailchimp, Salesforce etc. We also deliver custom code to suite your tailor needs for data capturing.
Our Process
Simplicity is the key to success. We literally follow this phrasal verb in our process as well.
Brief Submission
Place an order by submitting your expectations and design files. We support PDF, PSD, AI, Sketch and other design formats. We will get back to you if we have any queries.
Execution
Our designers & coders will do the heavy lifting that is- designing, coding, browser and devices testing, and over all quality checks for web.
Review
We share the files with you for your review and final approval. This is the stage where you can suggest further alterations before we finally deliver all the files to you.
Delivery
Post-confirmation, we will share HTML files, sliced project images, sliced PSD files* (on request), CRM integration (on demand), form submission results.
I really liked their whole approach towards the client work. It felt as if I was working with a local agency.
Cindy
I had a wonderful experience working with them and I really liked their eagerness to help us out whenever we needed their support.
Travis
We had a great time working with QeInbox and I must say the team at QeInbox is proficient and very professional in their approach. I highly recommend them to anyone who is looking for a quick and hassle free solution.
Debra