Millennials' contribution to the economy needs no introduction! Needless to say, the marketing campaigns majorly revolve around targeting this age group. This always Busy generation gets distracted easy, and to grab their eyeballs for a longer span, you must offer things that are fresh. In this era of abundance, it is surprising to have Emails as 58% of millennials' preferred communication channel. Looking at the number, it is high time that brands shift their attention on some actionable email marketing best practices to seize the show!
When forming an email marketing strategy, following the GDPR guidelines and drafting an effective subject line rules prevail since ages! But what more? What else could be kept in key focus to drive the desired results? Rest assured, as we've compiled twelve considered email marketing best practices that can help you run fruitful email marketing campaigns in 2019.
The Eye-catchy Email Copy
Drafting an eye-catchy email body copy is a no-brainer! But it was crucial to put it as our first best practice of email marketing in 2019. Email copywriting is an art that demands efforts, but keeping a few key points in mind makes it easy to come up with copies that convert! Email Marketing in
the era of 8-Second Attention Span is a task. Meaning? People nowadays don't read the entire email copy in the first go, they just SCAN. It is pivotal to write a copy that can give the gist and grab the attention within those 8 seconds of scanning.
Creating irrelevant content or buying the subscriber's list triggers the spam filters to land your emails in spam. Spam-proofing the emails is yet another vital measure of an effective email marketing strategy.
Pro tip: Adding a clear unsubscribe link and putting a physical address into your email copy makes it authentic and trustworthy.
The Template Design
Pleasing visuals is yet another no-brainer! The arrangement of the images, the text-to-image ratio maintenance, and clear CTAs are three major email template design fundamentals. The choice of fonts, colors, and graphics decide whether the appeal is correct or not. The bold narratives you use in your templates must say enough about the entire text because there will be many who'll just focus on the bold sentences. Also make your CTA a bright, beautiful button that's easy to find and click – otherwise you're making people search for it, which is again a major turn-off.
Pro tip: Send the designed and drafted email first to yourself and then check for any errors, visual impact, and mobile-friendliness!
Landing Pages
As Hubspot has derived, More landing pages mean more conversions! Creating separate landing pages for your key marketing campaigns will give you a competitive edge. When you design a particular landing page for your email marketing campaign, people will land on them by clicking the CTA. Here, they will find all the relevant information regarding the deal or subject they're looking for. Less navigation, clear information, and utilization of time will help them make a purchase decision easier. As creating separate landing pages bear these many advantages, it is suggested that brands design them for key campaigns.
The 'FROM' Name
The sender reputation here not only helps in getting past the ISPs, but it also helps in CTRs! You should consider personalizing the 'sender' or 'from name' to get better chances at your emails getting open. Having a company name or 'No Reply' senders, turn-off the users and they neglect such emails. Litmus had conducted a study about 'what's the first thing you look at when deciding whether to open an email?', which shows how important the sender name is. Take a look…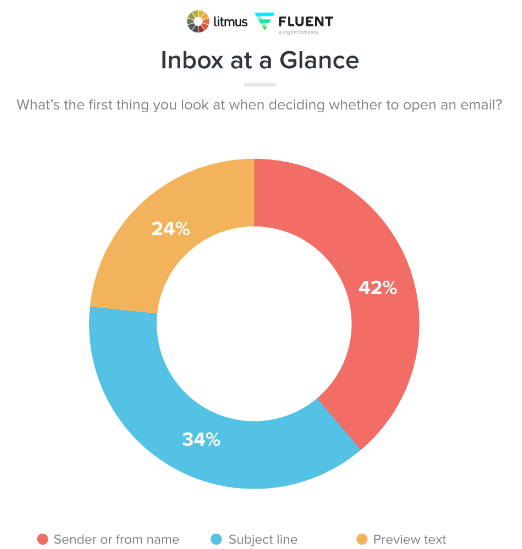 Including the ALT Text
Yes, you read that right! ALT Texts are not only helping the bots to read the images that are available on the website. They help the users in identifying the email text as well. When the HTML doesn't render properly in a user's device, the email graphic will just lie there with broken images showing nothing. Here, the ALT Texts work as a wonder! They help readers in identifying what is there in the email and what they're clicking on in spite of the images being broken.
Closing The Curtains
Email marketing best practices are those salient functions that help the effectiveness of the campaigns. The above-mentioned list will help you reach out to your audience through email marketing campaigns that will create an impact. Follow these practices to gain fruitful outcomes in your 2019's email marketing campaigns. Happy mailing!