As we inch towards the busiest yet profitable quarter of the year, marketers are looking for different ways to engage with their customers and hunt new prospects. With four of the most popular and a couple of lesser-known holidays falling in this short span, customers are in the quest to complete their purchases to avoid the holiday rush.
So, marketers need to start their preparation from at least two months before the actual holiday. If you are reading this in August, it is the right time to get your holiday email marketing campaigns ready and this article on different strategies you can implement in your email marketing campaigns.

The Significance Of Holiday Season For A Marketer
While many holidays are equally important as the main 6 holidays i.e. Halloween, Thanksgiving, Black Friday, Cyber Monday, Christmas & New Year's Eve, these are the holidays that people tend to celebrate with their closed ones. Where there is an opportunity for celebration, modern consumerism dictates gifting and decorations. So, compared to the other holidays, US shoppers are predicted to spend over $1.035 trillion during the 2019 holiday season compared to $998.32 trillion in 2018, i.e., a growth of 3.7%. (Source: eMarketer)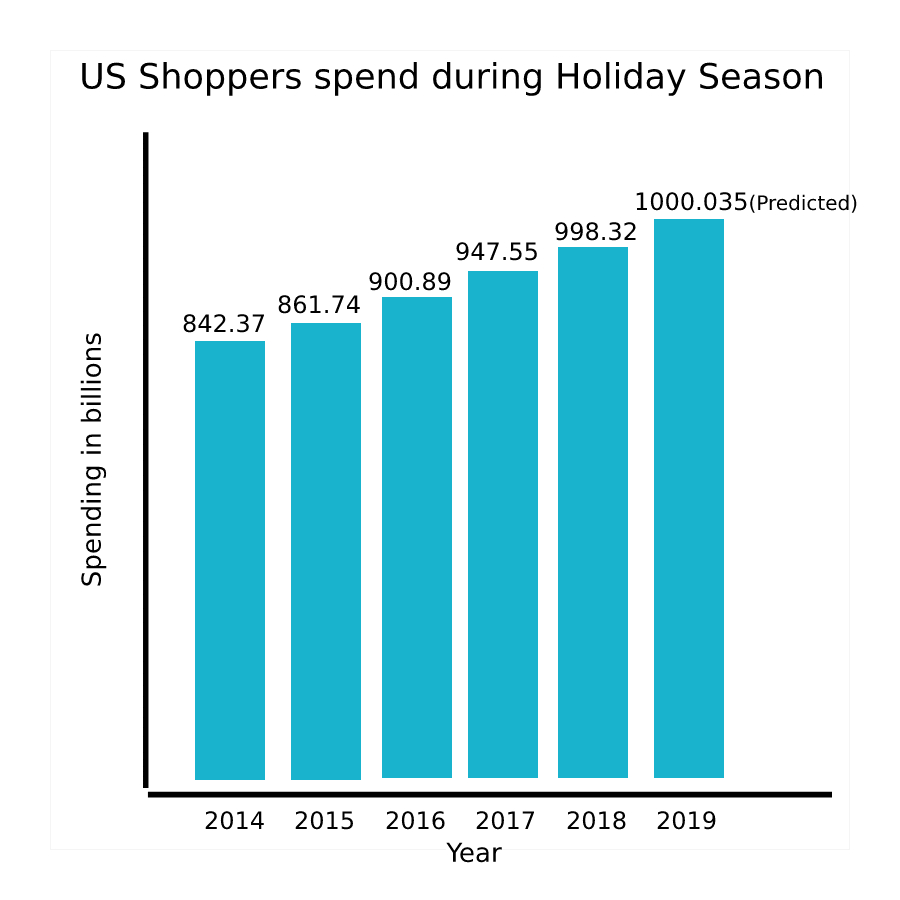 The holiday season accounts for 20% of the retail industry's annual sales. From an online perspective, last-minute shoppers are a boon from marketers as they make up nearly 30% of online holiday sales! In addition to boosted sales, the holiday season is a great opportunity for lead generation for both brick and mortar stores as well as online retailers owing to the increased traffic. Factoring in the effectiveness of email marketing, a correct marketing email sent at the right time can bring in more returns as compared with other channels.
How To Prepare Holiday Email Campaigns
As you may know, email marketing is not just about sending an email to a set of email subscribers.
Email marketing involves:
collecting leads
sorting them into relevant email list based on criteria
coming up with holiday email ideas
implementing them into email templates
testing the template
sending the email
analyzing the results
setting up automation workflows
optimizing them at the bare minimum
So, the preparations for an email campaign begins at least weeks before the actual email send.
During the holiday season, additional tasks such as list cleansing, website redesigns and coming up with newer ways for lead generation, makes it important to start your holiday email marketing preparations a month before the holiday.
To be prepared for your Holiday Email Marketing Campaigns, you need to have a foolproof strategy. The more detailed is your marketing strategy, the earlier you need to start your preparations from.
Flowchart for Email Marketing Strategies Creation
A simplified flowchart for creating your email marketing strategies, in general, is:
Step 1:
Define your goals. What do you want to achieve from the email campaign defines your goal. The goals need to be Specific, Measureable, Achievable, Realistic, and Timely. Goals can be as simple as increasing traffic or complex as overtake previous year revenues.
Step 2:
Segment your list. Once you have a goal in mind, you can get a clearer picture of who your target audience is. The next step in your strategy would segment your existing list into personas that fit your description of your target audience.
Step 3:
Chart out your customer journey. This process is not restricted to the holiday season, but the prospect you engage in August can purchase in December if the customer journey is correctly charted out. A well-defined customer journey will help you define the requirements and expectations of your customers at every stage as well as define the criteria for promoting them to the next stage.
Step 4:
Decide the touchpoints to collect data. Emails are all about serving a personalized experience to your subscribers. To personalize your email content based on the customer interactions, you need to define the touchpoints to collect data from. Opt-ins, Page visited, browser abandonments are a good place to start while looking for customer touchpoints.
Step 5:
Plan your email frequency. The visitor who subscribed to your emails is not exclusive to you. Just like you, many other email marketers might be competing to make the subscriber read their email. If you don't follow an email sending schedule as well as the email frequency, you are not generating anticipation for your email, and it becomes very easy for your subscriber to ignore it.
Step 6:
Study your email metrics. The email metrics are the best friend of any email marketer as it gives a synopsis of how well an email is performing. By comparing the goals you set at the beginning with the email metrics, you would understand which elements of your emails are working as intended and which need improvement.
Step 7:
Opt for automating repetitive emails. Emails are supposed to be personalized based on the interaction yet certain emails such as welcome emails, thank you emails, purchase receipt emails have very few contents that change from person to person. With the help of merge tags and automation workflows, you can automate the sending of such emails based on predefined trigger conditions. This way, you can allocate more time to bringing innovation into the marketing game.
Step 8:
Maintain consistency. Your customers don't interact with your brand on the email alone. So you need to maintain consistency when communicating across different marketing channels such as social media and website content. While inconsistency may not be damaging, but it does create a jarring experience. This means you need to factor in the development time for an associated landing page while planning your email campaigns.
Now that we have seen the way to create your email marketing strategy, in general, let's observe some easy to implement Holiday Email marketing strategies.
Easy to Implement Holiday Email Marketing Strategies
1) Dress for the occasion
Close your eyes for a moment and guess the first imagery that comes to your mind when you think about Halloween, Thanksgiving, and Christmas. Most of you must have visualized decorated pumpkins, turkeys and Santa Claus. Implement such recognizable elements in your emails for the subscribers to make easy relation about the email content.
2) Create a shopping guide
Most of the people visiting might be in a dilemma of what things to buy when there is a huge variety available. By sending a catalog or product guide a week before your sale begins can help the customers to plan their shopping conveniently, and this can help you gain trust.
3) Social Media Engagement
Holidays are when people are most active on social media. Tie in your email marketing efforts with your social media marketing and organize flash sale announcements or contest that increase brand engagement as well as brand visibility.
4) Provide value addition
Offer something more than expected. Scour across popular platforms to understand what your customers are looking for and provide it in your emails. It could be something as simple as a shopping guide or free giveaways or exclusive deals. Make sure that your emails are providing some form of value addition, especially during the holiday season.
5) Consider lesser-known holidays
In addition to the prominent six holidays, many other lesser important holidays fall in the same quarter such as Small Business Saturday, Veteran's Day, World Aids Day, Hanukkah. Identify the diversity in your mailing list and send emails on such occasions to connect with them more closely. Similarly, Green Sunday is a shopping holiday celebrated recently on a Sunday after Thanksgiving.
6) Consider shipping
Shipping costs and the expected delivery dates are two crucial factors that govern the customers' purchases. Keep in mind, the shipping dates and the costs during the holidays and specify them clearly to avoid any last moment order cancellations.

Final Thoughts
All the brand awareness activities done during September gives you a large pool to retarget in December, and your preparations should start now to ensure your marketing efforts start in September. To help you plan your holiday email marketing campaigns better, we have compiled the best of email marketing strategies for the holiday season in our latest eBook titled "A Compendium on Holiday Email Marketing Strategy." Have a look to get a breakdown of different processes involved in setting an email campaign along with anticipated deadlines for each. Additionally, we have featured some email templates for inspirations. Are looking for Successful Holiday Email Subject Lines, check out "140+ Tested Holiday Email Subject Lines & Tips"